I love dressing in theme.  And I pride myself on doing it stylishly (most of the time. I'm only human).  So today I bring you three of my favorite holiday tall sweaters plus a review.
Casual Pick: I've mentioned on my personal blog's Facebook page that I'm a bit obsessed with fair isle.  This tall sweater is so fun and preppy. It's perfect for a daytime Holiday party or open house.
Festive Pick: This sequin tall sweater! Am I right or am I right?  I love anything that shimmers for the holidays.  It also comes in ivory whichi would be beautiful paired with gold.  This one would look lovely with black pixie pants or dark denim.  Add red or silver heels and you've got yourself a party look.
Whimsical pick: How cute is this reindeer tall sweater?!  The metallic antlers totally put me over the edge!  If you work with kids this would be such a fun sweater to wear to work.  Or how about for you mamas of small kiddos? I know my girls would get a kick out of this sweater.  Lastly, if you have a teen in your life, this would make a great gift.  I'd wear this one with dark denim and furry boots.
Review: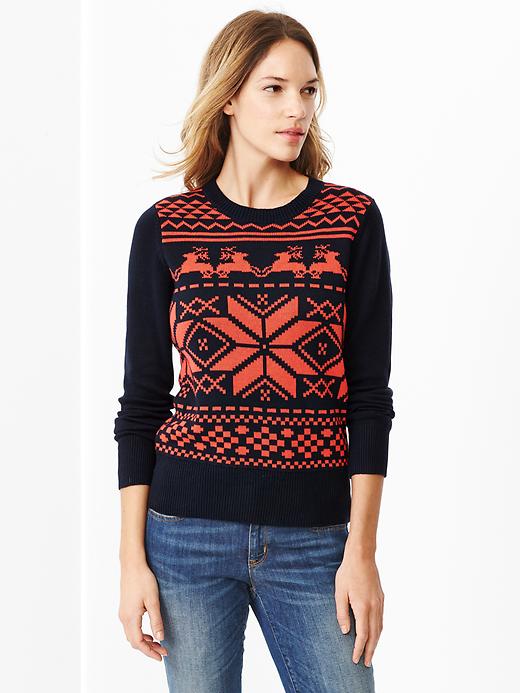 I ordered this tall sweater and I'm in love! I haven't worn it yet but after trying it on I know I won't be returning it.  The sleeves are nice and long and the fit is perfect– fitted but not tight.  I'd say it fits true to size.  I love that the red isn't a true red. It's more of a red orange which sets it apart. And the fair isle pattern is a bit graphic which gives it a modern look. I'd wear it with boyfriend jeans and heels for more edge. Another option is to layer a chambray shirt underneath and add some bling in the form of a necklace. There really are so many ways to wear it! I should also mention that the quality appears to be fantastic. It's a nice tight weave that doesn't look like it will stretch out easily. I haven't worn it or washed it yet so I can't vouch for how it washes but I'm hoping to get some photos in it to share with you!
These tall sweaters would also make great gifts! Which one best suits your personality?!
Happy shopping!